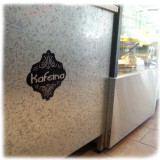 Best results for Wall Decals
Wall decals are a great way to incorporate your own design into the home décor. With deal paper You can literally print up any design and put it on the wall. This works for anything from light hearted images in a child's bedroom to elegant designs for a modern living room.
Applying decal paper designs
It is disheartening when a decal does not work our right, when it wrinkles or blisters. The right technique can prevent this.
• Make sure the area where you intend to apply the decal has enough space. Take note of other decorations.
• Pre-clean the section of the wall where you want to apply the decal. If should be completely dry. Try sugar soap. Use a citrus cleaner (de-solve-It) for any sticky marks.
• Apply the decal, keeping the decal paper completely flat. Make sure it is aligned correctly.
• Peel the backing off slowly and evenly. Peel it downward, so you are pulling the decal in one direction, and the backing paper in another.
• Check to see than no part of the backing paper has become separated and stuck to the decal. Catch this early.
• Use a squeegee to smooth out any bubbles.
Do not apply a decal to a freshly painted wall. Wait at least a week.
Decals are designed to work on completely flat surfaces. Painted plaster/gyprock works well. Most flat timber is fine. But concrete or rough surfaces will probably not work well.
Waterslide decal paper
Of course we don't have to limit ourselves to flat surfaces. Decals can be applied to a corner of a room, around a pillar, on bedheads, around lampshades. We can be creative in many ways. Try putting a decal behind a plain clock to make it look like a clock tower. Or cover a door to give an outdoors scene.
Larger images can be produce by combining several decals.